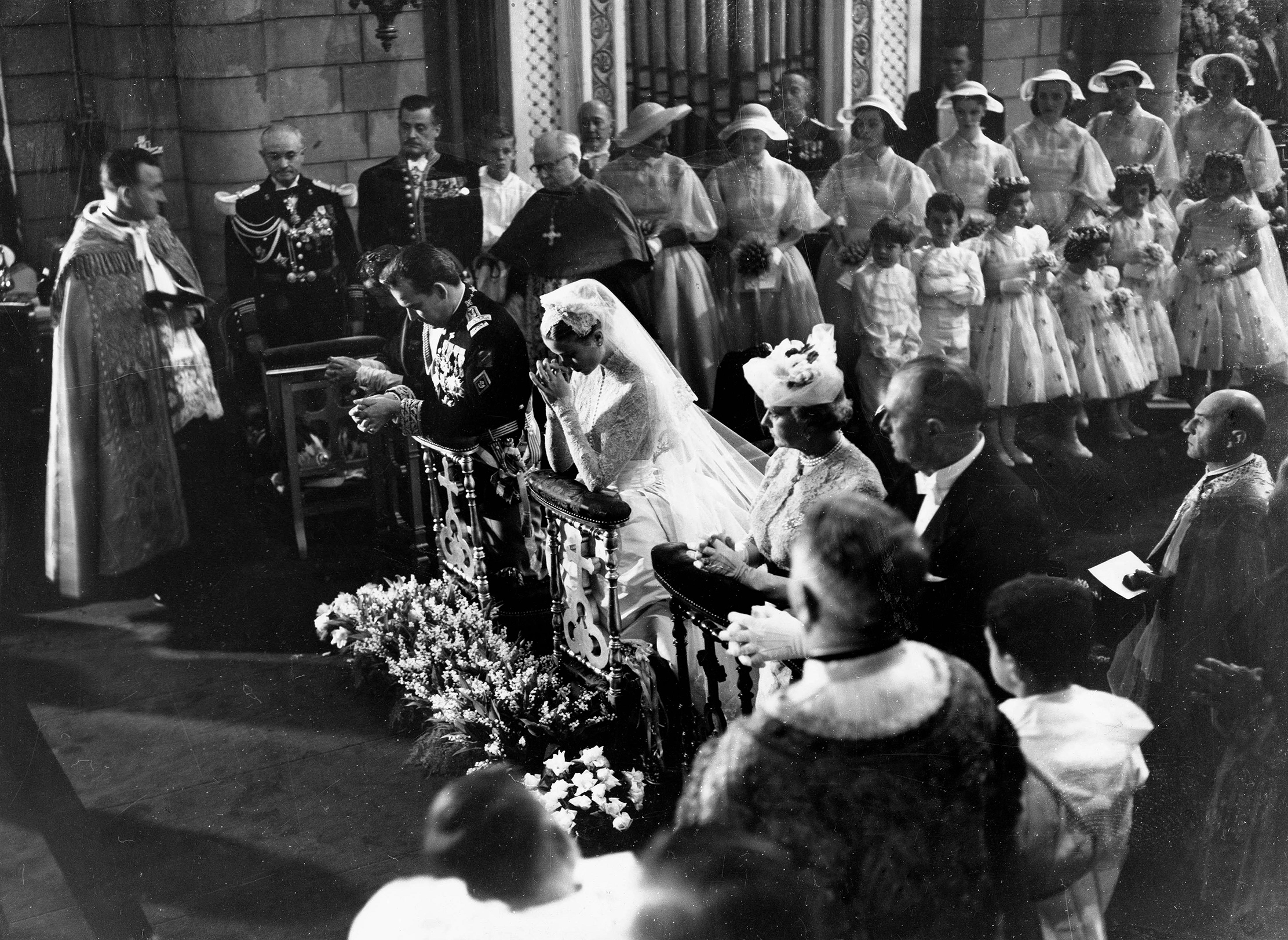 Prince Rainier and his wife Grace Kelly's wedding ceremony
FAMOUS FASHION HOUSES AND THEIR MOST ICONIC WEDDING DRESSES
When it comes to wedding dresses, there is no one definitive answer as to when couture began. However, in modern day weddings, the term 'couture' is used to describe exclusive wedding dresses created by top fashion houses. Couture is also used to refer to designer gowns that are made using luxurious materials such as gold thread and silk featuring intricate beadwork, opulent lace and other embellishments.
As bridal couture has evolved and grown more sophisticated, so too have the designs of some of history's most famous fashion designers. From French house Givenchy to Vera Wang, here are four of the world's most celebrated designers and their best-known dresses that have helped define the golden age of haute couture wedding gowns.
Givenchy
The House of Givenchy began around 1918 in the famed Place Vendôme in Paris. Over the years the design team have become world-renowned for their luxurious gowns and exquisite attention to detail. Their designs are known for their timeless beauty and elegance, making them a popular choice for brides the world over. Although the house is now run by women, it was founded by Hubert de Givenchy himself. After opening his first boutique on Rue Montaigne in the 1920s he quickly rose to become one of the most sought-after designers of the era.
Some of his most iconic designs are the chiffon gown worn by Audrey Hepburn in Breakfast at Tiffany's and the pale pink funnel nick mini dress she wore to marry her second husband, Andrea Dotti. In more recent years, Meghan Markle's wore a Givenchy wedding gown in a timeless and minimal style. Markle opted for a long sleeve design with a veil that was embroidered with the national flowers of each Commonwealth country. The soft blush hue gives this dress a romantic feel and the wide sash belt cinches in the waist for a figure-flattering effect. The fashion house remains a popular choice for brides looking for understated glamour on their wedding day.
Dior
Christian Dior is one of the most influential fashion houses in the world. Their designs have been worn by some of the most famous people in the world including Jacqueline Kennedy, Elizabeth Taylor and Marilyn Monroe.
Miranda Kerr, when speaking about her Dior wedding gown, designed by Maria Grazia Chiuri in 2017, described the fashion house as a dream for brides. She was the epitome of elegance in long sleeves and a flowing full satin skirt with floral appliqué. Dior are firm favorites amongst royalty too, worn by Princess Caroline, daughter of Grace Kelly for her wedding in 1978. The flowing dress with lace detailing was certainly of the time. The house still remains one of the most popular choices for modern brides.
Yves Saint Laurent
Yves Saint Laurent was one of the fashion world's biggest superstars in the 60s and 70s. This French fashion designer created many innovative designs that were inspired by the work of both Picasso and Matisse. If you are looking for a wedding dress that will make you look and feel like a princess, then Yves Saint Laurent is the designer you should go to. Their dresses are known for their intricate and beautiful details, making them perfect for weddings. One of the most iconic bridal looks ever delivered by Yves Saint Laurent came with the wedding of Bianca Jagger in 1971. The bride wore the fashion house's signature low cut smoking jacket along with a midi skirt, which has continued to inspire brides to this day.
Vera Wang
Over the years, Vera Wang has become a household name in the world of fashion and is known for designing many of the most glamorous evening gowns worn by celebrities and other high-profile individuals. Several A-listers have worn her remarkable wedding gowns including Mariah Carey, Gwen Stefani and Ariana Grande. All three are vastly different. Mariah Carey's gown featured a dramatic and lengthy train. Gwen Stefani opted for a traditional dress with a layered full skirt. Whilst Ariana Grande showed off her svelte physic in a figure skimming slinky dress paired with a vintage inspired veil. Today, Vera Wang is widely considered to be one of the most influential designers in the world and a leading choice for brides worldwide.