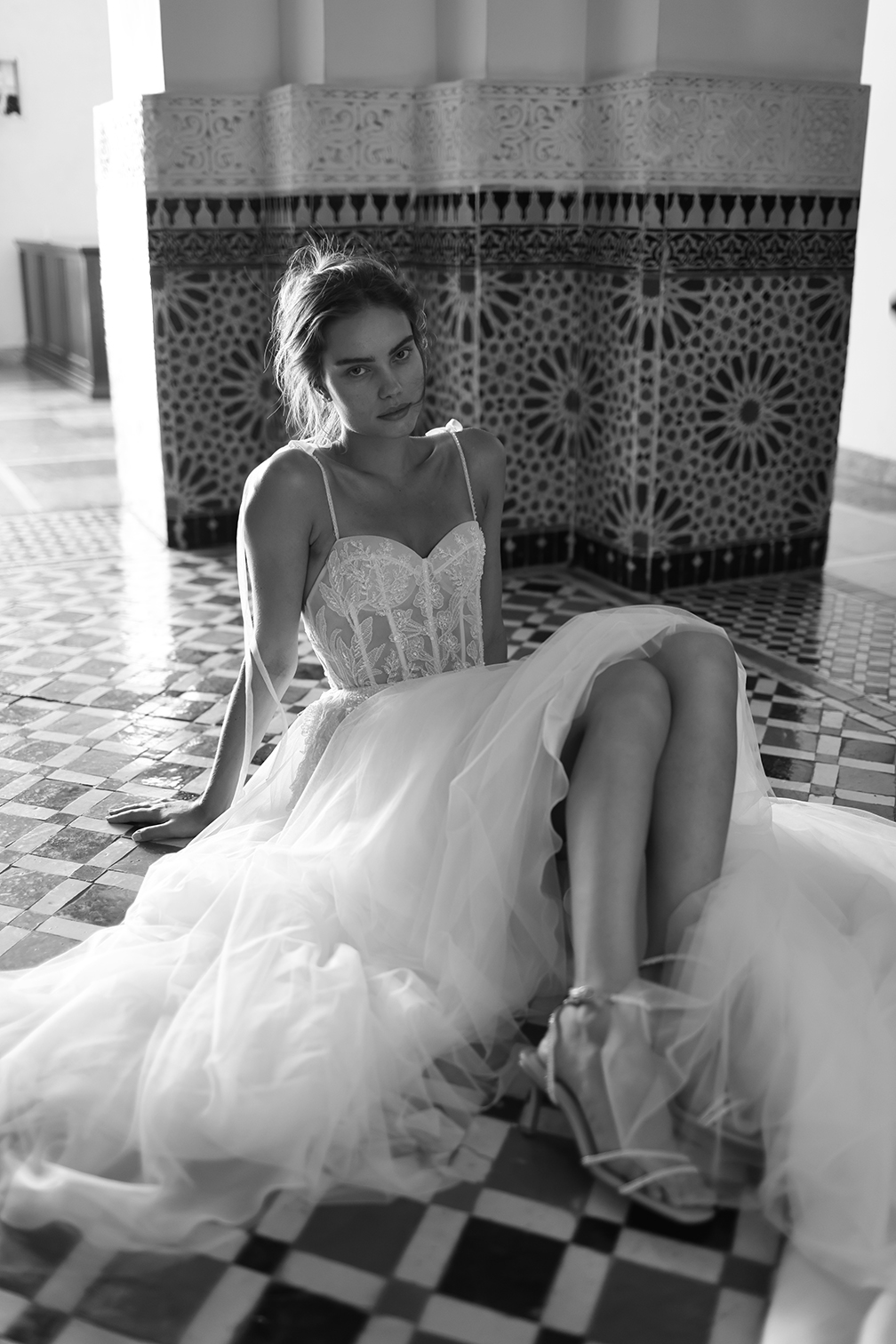 Wedding dress by Arava Polak Bridal
GUIDE TO WEDDING DRESS SHOPPING FOR PETITE BRIDES
Wedding dress shopping can be one of the most anxious experiences for brides in preparation for their big day. There can be a lot of pressure to find the perfect dress, and look your best. For petite brides, the struggle to find the right dress is even more difficult as many designer and ready to wear dresses are made with a taller woman in mind.
But there is no need for concern – with the help of these simple guidelines, you will be able to find the right style and cut to flatter your shorter frame. You will be able to give the illusion of balance and height in a perfectly fitted wedding gown.
Research boutiques
Start by doing some research and checking out wedding boutiques that specialize in wedding dresses for short brides. This is the best option because if you cannot find a dress that fits well then, the added expense of greater alterations is likely. Find a specialized bridal boutique that carry a variety of gowns, and you can be sure that you will find one that fits your personal style and body type.
Consult a stylist
Many bridal salons offer private consultations with in-house trained staff; but if this option is not available, you may want to consult with a professional stylist. They will have plenty of experience working with different body shapes and will be able to help you find a dress that best suits your figure.
Consider the length
When choosing your gown, the length is an important consideration for petite brides. Opt for a short dresses or tea-length style to create a flattering silhouette. Petite women should stay away from floor-length gowns with full skirts since they will only accentuate their small stature. However, long styles that do work well include empire line wedding dresses, as the high waist will give the illusion of longer legs. Similarly, sheath or mermaid dresses will give balance to a delicate shape.
Avoid fussy details
When it comes to dressing a petite bride, there are some simple details that will create the illusion of height while others will have the opposite effect. Avoid horizontal lines, and opt for vertical design details such as vertical stitching, panels and pleats, or a line of buttons along the back of the dress. These details will move the eye up and down the body and make a petite bride look taller. Heavy lace and floral details should be avoided by petite brides. Instead, choose a wedding dress made from one material for continuity in the shape.
Wear high heels
The simplest way to appear taller is to wear high heels. This will improve posture, and give height and confidence to any bride on her wedding day. But, even for the well initiated, wearing heels for an entire day can be uncomfortable and you will want to be able to move freely and dance with ease. There is no need to wear very high stilettos. Instead, choose a wearable heel that will offer some height whilst being comfortable. A block heel is a great option.
Bring a friend of family member
Lastly, be sure to bring a friend or family member along so that you can get a second opinion on the styles that you are trying on. This will help you to make an informed decision about which dress is right for you.
Finally
Finding a wedding dress, especially as a petite bride can be a stressful process, but it can also be a lot of fun if you find the right dress for you. Follow the advice above, and you are sure to have a successful experience during your search for the perfect wedding gown.