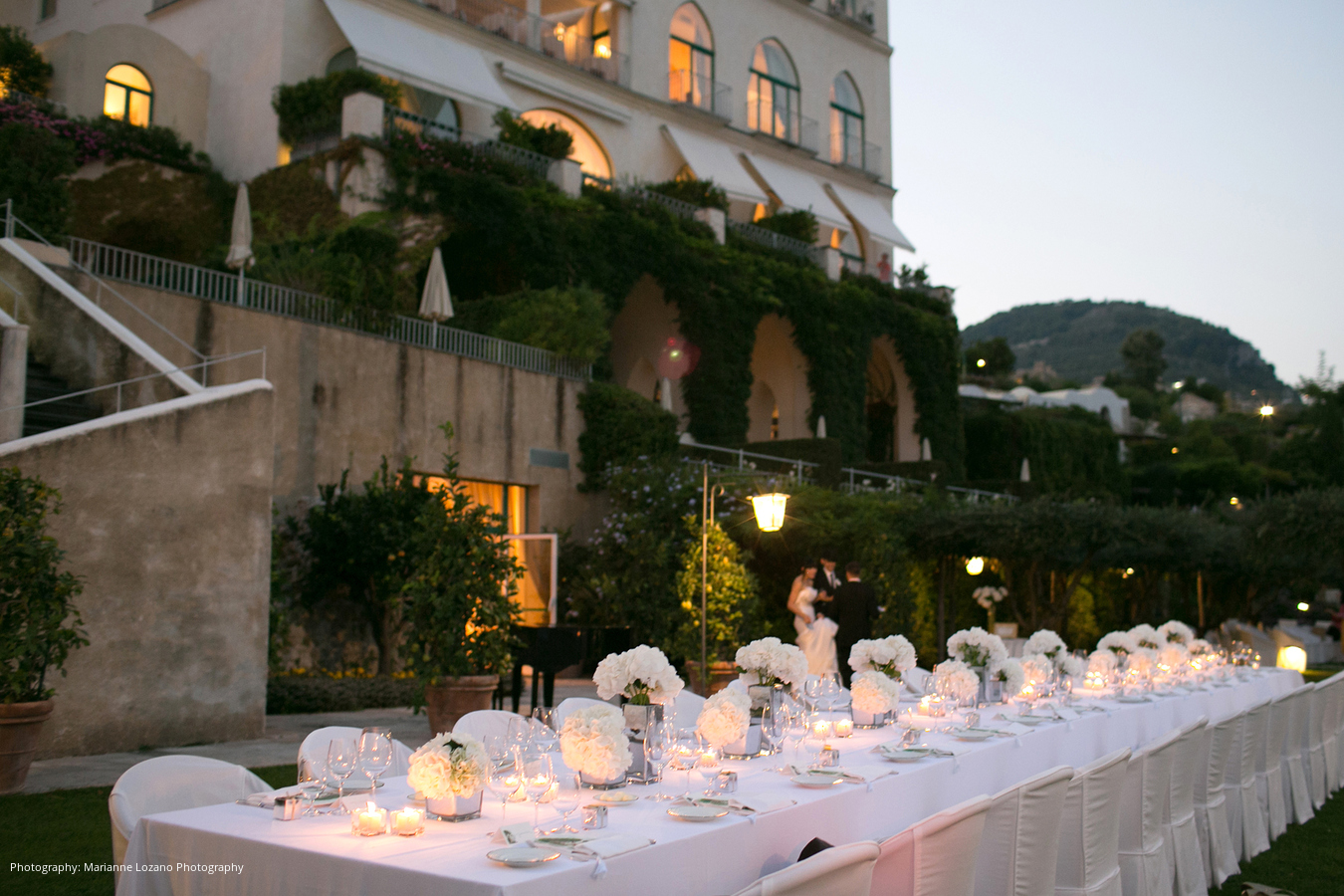 Photography by: Marianne Lozano Photography
A shabby chic wedding embraces vintage decor and themes to create a fun and memorable celebration. When planning a shabby chic themed wedding, you'll want to keep in mind the "feel" of the wedding.
This means looking for elements that reflect the atmosphere you're going for. For this particular look, you'll want a venue, theme and décor that have a vintage feel and add a sense of charm and character to the wedding. It will make your ceremony and reception feel truly unique and special to you and your guests. So, how can you plan the perfect shabby chic style wedding? Read on to find out.
Relaxed venue
One of the most important aspects of planning a shabby chic style wedding is the look and feel of the venue itself. Whilst for a traditional wedding a couple may opt for a large, elegant ballroom, many couples instead choose a cozy barn, country house or relaxed beach setting for their ceremony and reception. Venues such as these will provide the perfect setting for a rustic or vintage style wedding.
Pastel color scheme
The aim of a shabby chic wedding is to create a romantic and vintage feel. Colors that work well for this theme include soft pastel shades such as powder blue, blush pink, pale yellow and mint green. Select bridesmaid dresses in one or a selection of these colors for a vintage feel. Including these colors in the bouquets, floral arrangements and table settings will have the perfect effect.
Natural décor
To create a shabby chic style, many couples choose to incorporate many DIY elements, such as wooden signs and signs cut from fabric with quotes. Consider using as many elements of nature as possible like plants or other greenery to your table settings to help set the scene. Fill neutral vases or make centerpieces filled with fresh flowers. The tablescape could include mismatched dishes and antique tablecloths for a real vintage vibe. These little details will go a long way in setting the mood for your romantic day by helping to create an intimate and inviting atmosphere.
Informal wedding attire
Another thing that sets a shabby chic wedding apart is the way in which the bride and groom dress for the occasion. Whilst a traditional wedding typically calls for more formal attire, a shabby chic wedding favors a more laid-back look. Many brides and grooms choose to wear rustic clothing such as a dress made of lace or a gown adorned with flowers. Others decide to go for a more bohemian look by wearing a flowing scarf or a maxi skirt. Alternatively, the entire bridal party could dress in all white with fresh flowers in their hair. Your wedding day will be the perfect occasion to show off your unique sense of style and creativity.
Classic wedding cake
Another way to incorporate this theme into your wedding is by choosing a wedding cake with a vintage design that features tiers made of ruffles and lace. You could even opt to have separate cakes for the different color variations of the theme.
Vintage car
Consider hiring a vintage vehicle to take you to the venue or as a get-away car at the end of the night. It could be a refurbished Volkswagen van or an iconic Fiat 500. It will bring your chosen theme together and it will give you endless photo opportunities. It is sure to add a memorable finale to the celebrations.
Fun photo booth
Many couples choose to include a photo booth at the reception for both the newlyweds and the guests to take away a memento of the day. A photo booth for old-school style photos together with your guests. Include some vintage touches and props as well as making the photos black and white to complete the shabby chic style wedding fun.